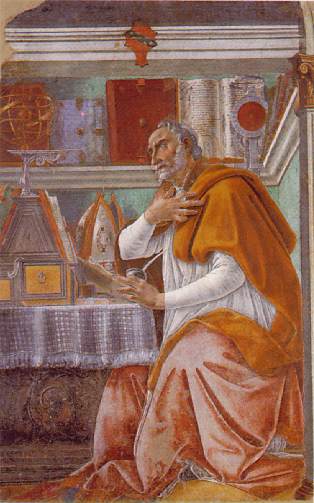 August 28th marks the Feast Day of St. Augustine of Hippo. This is the day that the faithful are called to remember this Saint and his contribution to the faith as well as to humanity.
St. Augustine was born in Africa around 354A.D.. His mother, St. Monica whose Feast Day is celebrated August 27th, was a very devout Catholic. She spent most of her life, chasing after her wayward son, praying constantly that he would change his sinful ways and become a devout Catholic.
Through her prayers, as well as the influence of St. Ambrose, this extremely intelligent man finally decided to abandon the Manichean Heresy that he found himself involved in, embrace the faith and submit his life to Christ and the work of the Church.
Sometimes, intelligence can hinder our ability to have a relationship with Christ and find true happiness. Instead of relying on God, we may rely on ourselves. Instead of relying on the Giver, we rely on the gift of knowledge. This was the case with St. Augustine. In The Confessions, St. Augustine remarks:
Unlearned people are taking Heaven
by force, while we, with all our knowledge, are so cowardly that we keep rolling around in the mud of our sins!
St. Augustine has had a lot of impact on Christianity, whose effects can still be felt today. Perhaps this is the reason why Catholics and Protestants both want to claim him as one of theirs. In earlier conversations, I have had the chance to refute the idea that
St. Augustine believed in Sola Scriptura
. All of the research and reading of this man that I have done, has shown me that St. Augustine was definitely Catholic in his beliefs.
Praying with the Saints
There is an ecclesiastical discipline, as the faithful know, when the names of the martyrs are read aloud in that place at the altar of God, where prayer is not offered for them. Prayer, however, is offered for the dead who are remembered. For it is wrong to pray for a martyr, to whose prayers we ought ourselves be commended. -
Sermons 159:1
For on these very grounds we do not commemorate them at that table [The Lord's Table, Communion] in the same way, as we do others who now rest in peace, as that we should also pray for them, but rather that they should do so for us, that we may cleave to their footsteps
- Comment on John's Gospel, Tractate 84
Purgatory

Temporal punishments are suffered by some in this life only, by some after death, by 'some both here and hereafter, but all of them before that last and strictest judgment. But not all who suffer temporal punishments after death will come to eternal punishments, which are to follow after that judgment
- City of God 21:13
Baptismal Regeneration

It is this one Spirit who makes it possible for an infant to be regenerated ... when that infant is brought to baptism; and it is through this one Spirit that the infant so presented is reborn. For it is not written, `Unless a man be born again by the will of his parents' or `by the faith of those presenting him or ministering to him,' but, `Unless a man be born again of water and the Holy Spirit.' The water, therefore, manifesting exteriorly the sacrament of grace, and the Spirit effecting interiorly the benefit of grace, both regenerate in one Christ that man who was generated in Adam
. -
Letters 98:2
And the list goes on...and on....and on....
Thank you God for giving us so great of an example of what it means to be a Christian and contend for the faith that has been passed down from Christ and the Apostles. Thank you St. Augustine for your living witness that is still with us today...
[1]
Collection of St. Augustine's Work
- as well as other Church Fathers
[2]
Collection of St. Augustine Catholic Quotes